Hogwarts Legacy Review: Great start till you're looking for elements to keep you hooked other than the main story
February 24, 2023 20:30 (UPDATED: March 01, 2023 12:34 IST)
Hogwarts Legacy is the latest product from Wizarding World and Warner Bros., developed by Avalanche Software. This third-person RPG is the most beautiful Wizarding World game I've seen. Here's more on what I think.
Being a former Harry Potter and Wizarding World fan, I have been in two minds about reviewing the game Hogwarts Legacy. For one, it was supposed to be a dream come true for my childhood self, who spent hours dreaming about being a witch herself. On the other hand is this popular need to boycott all Wizarding World products, including Hogwarts Legacy, given the current circumstances and J.K. Rowling's vociferousness. 
 
Regardless, Avalanche Software has addressed this ambiguity, and dealt with it head on. Avalanche Software sent out multiple disclaimers to clear the air about Rowling's involvement in the game. Now the very claim, that a game that is being founded on the universe that has been  created by Rowling herself, doesn't involve her, made no sense, personally. Especially when her association was visible, right there in the title- "Hogwarts". And yet, giving them the benefit of doubt, I was curious to see how ingenious they could be within the constraints of the Wizarding World. And it wasn't much. Here's more on what I found. 
Story of Hogwarts Legacy
The first few hours of the game was a real treat. The game starts on a high note, packing in action in the 30 to 40 minutes long prologue itself. What's more, you get attacked by a dragon, visit Gringotts as it was in the 1800s, fight magical beings, and face an evil goblin. All of this before you even visit Hogwarts and get sorted. Needless to mention, exploring the castle, and simply walking around has been a magical experience. While Avalanche Software, Warner Bros. and Wizarding World's fanservice through this game is its USP, that cannot be it. Especially when you claim that you've been original in this game.
Main Storyline
The crux of Hogwarts Legacy is surrounding a certain Ancient Magic. As you must already be knowing, you start the game as a fifth year student of Hogwarts. Eventually, you are introduced to this powerful entity being referred to as Ancient Magic that somehow, nobody really knows much about. Naturally, for a source so powerful, there has to be an antagonist, equally dreadful, and that's who Ranrok is. And unfortunately, that is it. The story of Hogwarts Legacy, is about defeating an evil goblin. 
However, if "Ancient Magic" has gotten you intrigued, and you're asking all sorts of questions right now, here comes the craziest part. I've done the same, as did my character, and so have all the other NPCs in the game. And no, we still don't have our answers. At the same time, Avalanche Software has done enough to tease our curiosity about this Ancient Magic every now and then, throwing around these bones for us to grab.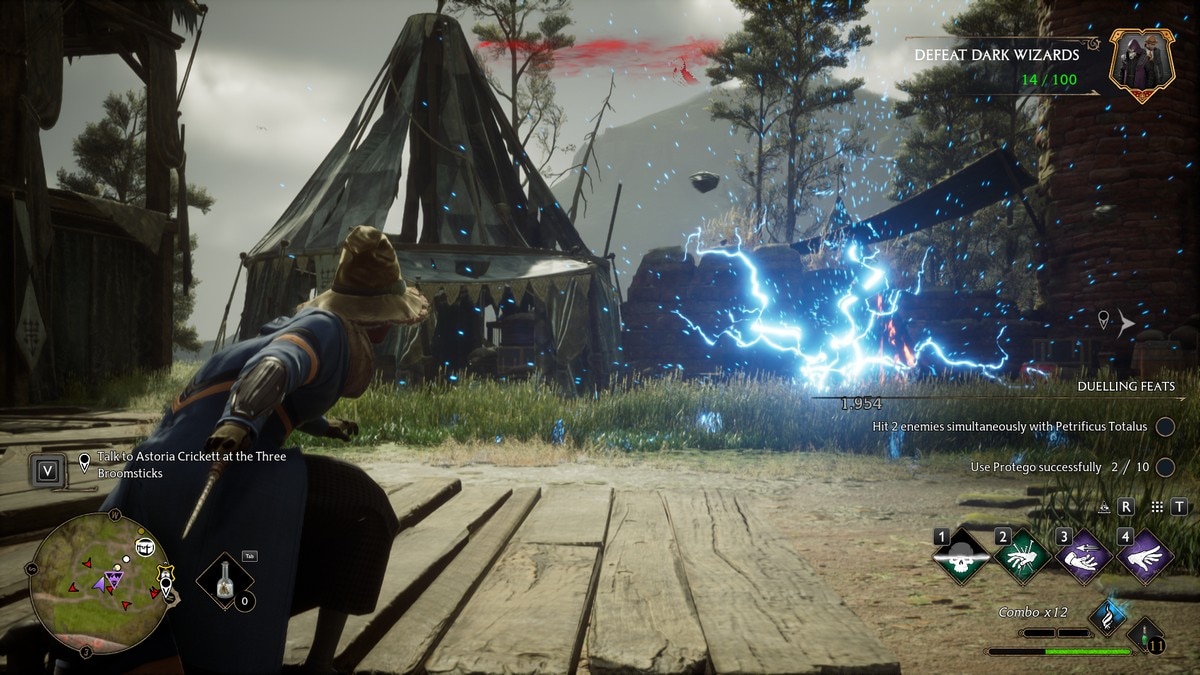 Just like your character in the game, Isadora Morganach, a witch from the Tudor times, was another powerful wielder of this Ancient Magic who joined Hogwarts in the 5th year. So did her mentor Professor Percival Rakham. While it is easy to theorize that there is some relation between these events, relevant to the Wizarding World, there aren't any that Hogwarts Legacy has provided us with, yet. Especially when lineage is an important factor in the Wizarding World, right from the origin and bearing of powers, to the pride that different families are known for, you know nothing about yours. Naturally, this leaves more questions than answers.  
As for the other big plot point named Ranrok, the goblin is just another traditional, revengeful villain that the makers have included in the game to pose as the most challenging boss. Here too, the story of Ranrok has been built on the one created by Rowling herself- the Goblin-Wizard rivalry. 
Regardless, the main storyline of Hogwarts Legacy falters to create an impression, despite trying to make a canon out of this Ancient Magic. 
Side Story and Open World Elements
The open world elements are undoubtedly one of the best parts of the game. Hogwarts Legacy is filled with random puzzles for you to solve, both within and outside the Hogwarts castle. While some of them are necessary to progress in the story, most aren't. And yet, the latter seems to loom over the entire game, to the point that it becomes tedious after a while. Here's why. 
Hogwarts Legacy is more about exploring the legacy of Hogwarts, than of you building your own (unlike what the makers said). But most of the Potterheads I know are people who loved the world JK Rowling created, more than the characters. They saw themselves as witches or wizards in their own rights, who went and learned and honed their magic at Hogwarts or any other school for that matter, and not as the Golden Trio. 
Hogwarts Legacy builds on this love, and then goes ahead and makes a treasure hunt out of it. While this helps you explore the map, it also feels like a compulsion as the last chapter doesn't unlock, even after you've finished the story. I was looking forward to sitting for my OWLs as a fifth year student of Hogwarts, and witnessing the House Cup, before I had to do side quests that don't add much to the main story. Personally, that is not the approach I was looking for, and here's where the game also loses fans who came to live the Hogwarts experience.
As for the people who would want to play the game as a standalone product, here's more. 
Action and Combat
The combat mechanism of the game isn't very complicated and one can be quick to learn them. Every enemy or foe that you come across has weaknesses and vulnerabilities. As you progress through the game and pick up new spells to add to your arsenal, keep customizing them and your combat style to tune it with your opponent, and you're good to go. Here's where the game manages to pack in some of the experience that you're looking for during your time in Hogwarts. 
You get to attend classes, learn to brew your own potions after getting ingredients from Hogsmeade, and the like. However, you know every skill addition is to prepare you for the final boss as a result of his overarching storyline. It is a buildup for the future, and what unfortunately ends the game. I was desperately looking for a stronger hook than Ranrok, to the extent that even the action of the game started feeling monotonous after a while. 
The biggest challenges in combat are supposed to be in the form of the four Trials from the Keepers. After the first two, I was dreading the third trial of San Bakar, and that's where the Magical Beast challenge cropped up, thankfully. A lucky save, but a save nonetheless. This was followed by the Fourth Trial based on the story of the Deathly Hallows.Though it was a welcome change when it came to the graphics and style, the gameplay, more driven towards stealth this time, wasn't very different from what I had been doing till then, once again. 
The enemies themselves didn't add or change much to this. You fight the same old goblins and poachers, and spiders and inferi through the most part of the game. Once or twice, you can come across a wolf, or a dugbog. But that is about it, unless you actively go looking for a different enemy to subdue or defeat. Regardless, I still liked to see my character casting the different spells given the different maneuvers associated with them. 
Cinematics, graphics and the world of Hogwarts Legacy
Another very strong point of the game, and it just makes sense given that Hogwarts Legacy is nothing without the fanservice. What is appreciable here is that they've built and expanded on the world of Hogwarts and Hogsmeade. The map is humungous, including places never before mentioned in the Wizarding World franchise. The cinematics of the Scottish Highlands are beautiful, and for the best views, aerial is the way to go. Flying on Hippogriff, riding a broom, are those rare moments in the game that provide you joy, in the most casual manner.  
Day and night mechanics of the game are also important factors in some of the quests. If not anything else, it definitely affects the mood of the scenes, given the world of Hogwarts always has some eeriness or mystery attached.
Seasons have also been taken into account, and Hogwarts looks beautiful in the snow. So does Hogsmeade. Again, all of these are scenes that one can easily recall, even replicate from the movies, if not books. Regardless, the game makes a good, faithful adaptation of it. 
Inclusivity and Diversity in Hogwarts Legacy
The makers of Hogwarts Legacy have flooded the game with characters from countries across the world. They're of different races, colors and sexuality, including some of the major characters that you interact with, even play quests with. Now more than the genuine need of it, it seemed like they were there only because the makers were trying to make a point. 
It was nice to watch characters with names that I have come across in my life, looking like people I've known. It was however difficult to see them talking in those accents, and wearing what they were, even in the 1800s. 
If you dig deeper, a number of plotholes are bound to come up. The progressivity towards the LGBTQ+ community within this world exists alongside the rivalry with the Goblins, one of the biggest discriminatory strands within the Wizarding World. And somehow, this inclusivity magically vanishes in the Harry Potter series. But these arguments come up when you're looking for logic to justify the existence of these characters in the game. While you ponder upon stories and fandoms that do so, the makers themselves haven't, yet.  
I however will not be picking this apart any further because the characters came across to me as an embellishment to the game, that the makers added to a game that otherwise remains unaffected. They tried their best to prove that they aren't Rowling and her opinions and that's a story for another day but it doesn't end here. Accuracy in their representation was something I was hoping would exist at the least, and that's only to begin with.  
Top Moments
Regardless, there have been some sequences that will stay with me for sometime now. Sebastian Sallow's questline, and its final dark turn of events. Though it comes with its own criticisms, exposing the lack of a morality system in the game, it nevertheless is harrowing and leaves a mark on you. 
My other favorite pick would be a sequence in the final stages of the game. Will not be breaking any spoilers of it, but here's a picture from this scene that runs high on nostalgia.
Verdict
Hogwarts Legacy ultimately feels very incomplete. The game in its initial stages felt positively overwhelming, given that I'm a witch, walking around in Hogwarts, in an open-world game. But turns out, that was all that the game had to offer. The rest of it didn't need a AAA game of 70 hours. 
The sad part about Hogwarts Legacy is the makers milk so much out of the good features, that it ultimately destroys the experience. Additionally, every other achievement is a skill addition in your journey against Ranrok, which personally isn't a strong enough hook to revolve the game around. Once you get a hang of the challenges, you're desperately looking for that twist in the tale, which was the one thing that kept me going through till the end. Ultimately, it never comes. The only consolation that I have is that Warner Bros. might be up for a DLC or a sequel, where we might get our answers, finally. 
As for the question of buying the game, if you're looking for an interactive experience within Hogwarts and outside that looks and feels beautiful, Hogwarts Legacy is the game. It is true that this is the closest that we have virtually ever been to Hogwarts. However, if I'm spending around 3000 to 4000 bucks on a game, I'd want something more than the experience of being able to walk around within Hogwarts, and Hogwarts Legacy doesn't do justice to it. 
Rating- 2.5/5
Editor's Note: Warner Bros. and e-xpress Interactive Software provided a copy of 'Hogwarts Legacy' for review.