Samsung Z Flip 5: A Foldable Evolution - First impression of the next generation of Flip phones
August 02, 2023 12:20 (UPDATED: August 07, 2023 10:44 IST)
Walkthrough into our in-depth review of the Samsung Z Flip 5, the latest marvel in the world of foldable smartphones, as we explore its cutting-edge features and sleek design.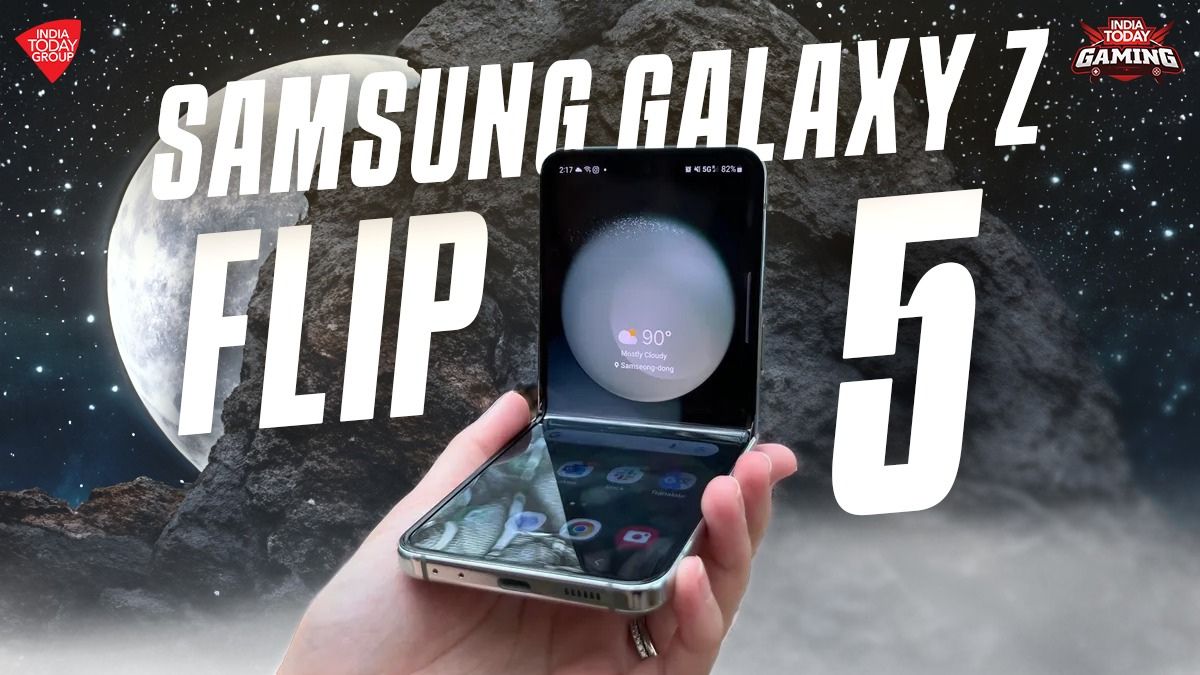 Attention Samsung users! (Drum roll inserted) Samsung is known for its innovation of classy pieces which is also known as a modern marvel of future technology. Contributing to the Z series, Samsung launched Galaxy Z Flip 5 on 26th July 2023. This awesome foldable smartphone is a mix of unique factors which makes it a stunning pick for users. What makes this phone more special is its range in color (mint, graphite, lavender, cream.) However, there are three more special edition colors (Grey, Blue, Green) that are only available on Samsung.com. 
Click to watch the thrilling video of unboxing on Youtube and Snapchat Samsung Galaxy Z Flip 5: 
Let's take a quick dive into Samsung's foldable edges to experience the powerful performance with staggering cameras. 
Flipping Good Design and Display:
First thing first, when unfolded, the user will be greeted with a display of 6.70 inches with a primary display of FHD+ resolution. The sharp and enhanced display will make every colour pop out vibrantly. But what makes it an ideal deal? The slim bezels holds the power to allure users' eye as they delve into gaming or any visual tasks.
 The display talk doesn't end here, the Z Flip also contains a secondary display of 3.40-inch touchscreen on the front. However, this time it's different from what Z Flip 4 offered. This time the secondary display is a super alluring piece for the quick notification panel, music control, or taking premium selfies. 
Extraordinary Camera Capabilities:
Talking about the impressive camera setup, the Galaxy Z Flip have 5 beast camera setup. The dual camera has a 12-megapixel primary sensor with an f/1.8 aperture. On the other hand, a 12-megapixel ultra-wide lens with an f/2.2 aperture, and a 10-megapixel telephoto lens with an f/2.4 aperture. 
This versatile combination allows users to take vivid photos with a high level of detail and dynamic range. The front-facing camera houses a 10-megapixel sensor with an f/2.2 aperture, delivering excellent selfie shots and enabling smooth video calls. The camera app also offers a host of shooting modes and filters to unleash your creativity.
Incredible Performance and Software:
Do you wonder how this device is handling so much performance load? Thanks to octa-core Snapdragon 8 Gen 2 processor and 8GB of RAM, the Samsung Galaxy Z Flip 5 delivers robust performance that effortlessly handles multitasking and demanding applications.
The fluid user experience is further enhanced by Samsung's OneUI 5.1.1, which is based on Android 13, offering intuitive navigation and customization options. Storage options include 256GB and 512GB variants, providing ample space for storing media files, documents, and apps. Users can also enjoy the flexibility of expandable storage, thanks to a dedicated microSD card slot.
Battery Life and Charging:
The Samsung Galaxy Z Flip 5 is powered by a 3700mAh battery, which might seem conservative considering its impressive specifications. However, the device's efficiency and optimization make for decent battery life, especially when paired with the power-efficient Snapdragon 8 Gen 2 processor.
Additionally, the Z Flip 5 supports both wireless charging and proprietary fast charging, allowing users to quickly recharge their devices without the hassle of cables.

Flexible Connectivity and Other Features:
The smartphone comes with a comprehensive range of connectivity options, including Wi-Fi 802.11 a/b/g/n/ac/ax, GPS, Bluetooth v5.30, NFC, and USB Type-C. The presence of 5G support ensures a smooth and lag-free internet experience for users in compatible regions. Furthermore, the Samsung Galaxy Z Flip 5's IP68 rating for dust and water protection ensures that the device is well-equipped to withstand everyday spills and splashes.
The Samsung Galaxy Z Flip 5 is undoubtedly an innovative smartphone that sets new standards for design and performance. Its foldable form factor offers a unique blend of style and functionality, while its powerful hardware and camera capabilities provide a premium user experience. With a sleek design, impressive display, and a multitude of features, the Galaxy Z Flip 5 is a worthy contender in the high-end smartphone market.
Although the price tag ₹99999.00 might be a consideration for some, for those seeking cutting-edge technology and a futuristic design, the Samsung Galaxy Z Flip 5 delivers a truly distinctive and enjoyable smartphone experience. As foldable devices continue to evolve, the Galaxy Z Flip 5 stands tall as a testament to Samsung's commitment to innovation and their vision of the future of mobile technology.
With only day one of using the Samsung Galaxy Z Flip 5, we can say the most perfect thing phone is its compact design. Samsung really took Flip 4 to the next level with this one piece. But what makes it much more special is its battery capacity which lasts up to 6 to 7 hours. With the tighter hinges in Flip 5, Samsung is moving towards the mastery of new technology.